Member Profile
Primary tabs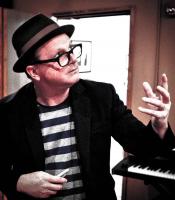 PRIMARY INSTRUMENT(S):
Composer

Drum Programmer

Engineer

Keyboards

Piano

Programmer

Synthesizer

Trumpet

ADDITIONAL INSTRUMENT(S):
TYPE OF WORK DESIRED:
TOURING

RECORDING

CLUB GIGS

PRIVATE PARTIES

TEACHING MUSIC LESSONS

Other

CHART READING/WRITING SKILLS :
Number Charts:
WRITE

READ

Chord Chart:
WRITE

READ

HOME STUDIO :
Home Studio:
Yes

No

ENGINEER :
Engineer:
Yes

No

ADDITIONAL SKILLS :
Additional Skiills:
PRODUCER

ARRANGER

BAND LEADER

ROAD MANAGER

Other

Description:
Record producer, engineer, singer-songwriter, keyboardist, pianist, misc. instruments, sonic treatments and manipulation
Resume / Bio:
Nashvillian Charlie Peacock, multi-genre, Grammy Award-winning record producer, reached #4 on the Billboard Jazz Chart with LEMONADE, his collection of twelve solo piano improvisations. LEMONADE is an unexpected, yet winsome next musical step after his much-admired 2012 Folk-Americana release, No Man's Land. Paste Magazine's Holly Gleason proclaimed No Man's Land "a cocktail of Dust Bowl feels, Cajun beats and shuffles, raw banjos and fiddles, steel guitars that pool, and spacious arrangements. This is music of red dirt and high humidity, different worlds that share the same sort of soul."
It's no stretch that the producer behind the music described above, and that of Folk/Americana darlings The Civil Wars, The Lone Bellow and Holly Williams, would share the same sort of soul found in solo piano improvisation. For Peacock, it's all one soulful musical world. The producer did in fact produce three of Entertainment Weekly's Ten Best Country Albums of 2013. However, he's also the same musician that has recorded and performed with such top tier jazz improvisers as Ravi Coltrane, Bela Fleck, Marc Ribot, and Jeff Coffin. Perhaps all of this is why Electronic Musician wrote: "Charlie Peacock's life is like a game of musical chairs: he is constantly changing seats and trading places."
Charlie Peacock's production of The Civil Wars' Barton Hollow garnered two Grammy Awards in 2011 and was Gold certified. The eponymously titled The Civil Wars (2013) debuted at #1 on the Billboard Pop Chart, has sold over 300,000 copies and recently won the Grammy for Country Duo Performance.
Peacock's recent production credits include Kris Allen, Lenachka, Ben Rector, Brett Dennen, and "Misery Chain" for Soundgarden frontman Chris Cornell featuring Joy Williams, from the soundtrack to the film, 12 Years A Slave. Peacock is also the co-composer/producer of the title theme for the AMC television drama, TURN.
In addition to his music production work, Peacock is a husband/father/grandfather, a student at Covenant Theological Seminary, and consultant to the Lipscomb University College of Entertainment and the Arts.