Member Profile
Primary tabs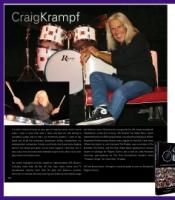 PRIMARY INSTRUMENT(S):
Composer

Drum Programmer

Drums

Percussion

Tambourine

ADDITIONAL INSTRUMENT(S):
TYPE OF WORK DESIRED:
TOURING

RECORDING

CLUB GIGS

PRIVATE PARTIES

TEACHING MUSIC LESSONS

Other

CHART READING/WRITING SKILLS :
Number Charts:
WRITE

READ

Chord Chart:
WRITE

READ

HOME STUDIO :
Home Studio:
Yes

No

ENGINEER :
Engineer:
Yes

No

ADDITIONAL SKILLS :
Additional Skiills:
PRODUCER

ARRANGER

BAND LEADER

ROAD MANAGER

Other

Description:
The YouTube video is from 2009: Ashley Cleveland, Kenny Greenberg (guitar), and Craig Krampf (drums). From Ashley's album, God Don't Never Change.
Resume / Bio:
Craig Krampf: one drummer's journey By Jan Linville/Correspondent...Franklin Life.
Sitting down to talk with legendary drummer, songwriter and producer Craig Krampf is like opening up a book of rock'n roll history. Story by story, the pages turn until you see how each chapter of his life led to the next - how he had just the right experiences at just the right times to allow him to achieve everything he has in his career.
Krampf was born in Milwaukee, Wisconsin and raised in a home filled with music. His father was a railroad engineer who would bring home records with almost every paycheck influencing Craig and his older brother, Carl, from an early age. "It was a lot of ethnic music, a lot of polka and waltzes," said Krampf, "but still there was big band stuff in there - Glenn Miller and whatever the hits were of the day - sometimes even used records out of jukeboxes." When his brother started playing the accordion at age 10, Craig would 'accompany' him. "There were drumsticks in the house - why they were there, I don't know," Krampf laughed, "but they were there and I literally started playing pots and pans and a wooden chair along with Carl on the accordion. I really think it was from listening to all that music and I kind of knew what the drums were supposed to do."
When he was 8, Krampf got his own $40 set of Sears drums and played them until the heads broke. At that point, his parents realized his talent and he began building a professional drum set one piece at a time. "I played my first gig when I was 9," Krampf recalled, "a communion party - all polkas and waltzes." The passion he has for music lights up his eyes as he stresses what a blessing it is to get to play on stage or in the studio. He has always believed in pouring his heart and soul into every show and session. "I think it is such an honor, first of all, to get to play music," he said. "God, are we lucky - and to go on stage, if you're not giving 100 percent every single moment, what are you doing up there? Why are you doing this?"
Much of Krampf's success came after his move to California in the 1960s when his band, The Robbs, won a battle of the bands contest that allowed them to play in front of Dick Clark at the Teen Worlds Fair in Chicago. This led to the band signing with Mercury Records and Krampf hearing his very first song on the radio. Clark eventually added The Robbs as regulars on "Where the Action Is," a half-hour rock'n roll show on ABC featuring the hits of the day. Krampf has been in numerous bands since The Robbs including Flo & Eddie and The Turtles, The Nick Gilder Band and also a short stint in a band with Steve Perry before Perry joined Journey. As a songwriter, Krampf's biggest hit is "Oh Sherrie" co-written with Randy Goodrum, Bill Cuomo and Steve Perry. The song peaked at No. 3 on the Billboard Hot 100 chart and recently received a second BMI Milestone award for reaching two million airplays. "Oh Sherrie" is currently in a Broadway play called "Rock of Ages." Krampf also co-wrote the song "I'll Be Here Where the Heart Is" with Kim Carnes and Duane Hitchings on the Grammy-winning Flashdance soundtrack. "You never know what's going to happen with a song or your career," he said with a smile, "dreams can come true."
As a drummer, Krampf's feeling and groove can be heard on the Kim Carnes 1981 smash hit "Bette Davis Eyes." The song spent nine non-consecutive weeks at No. 1 and earned Grammys for Song of the Year and Record of the Year. "The song was cut on take two with a live band," he recalled, "and after the session we thought 'what did we just do?' I love those special moments when everybody's in the room together and the singer - you hear him or her go for it - and it's like 'oh my God' and then that affects you and you play in a different manner. That's the magic and we are lucky in Nashville that a lot of that kind of recording still exists." Krampf also played on hits such as Nick Gilder's "Hot Child in the City," "Only the Lonely" by The Motels, "You Can Feel Bad" by Patty Loveless and Melissa Etheridge's "Bring Me Some Water" from her first self-titled album that he also co-produced.
Krampf says he is amazed and truly grateful when he reflects on his successful career. He credits his wife, Susie, who passed away in 2004, with his success. They were married 34 years and have three daughters, Carrie, Courtney and Katie. "I don't think I could've accomplished half of what I did if it wasn't for Susie's love, belief and support," he said, "I mean, having a partner who understands truly what it is you do and what it means to you. What an incredibly lucky man to have that." These days, Krampf finds himself working a more structured job with an office and regular paycheck as the Secretary/Treasurer of the Nashville Local 257 of the American Federation of Musicians (AFM), which is the fourth largest musicians union in the United States. He has been a member of the union since he was a teenager and is thoroughly enjoying his current position. "The rewards are amazing," he said, "it's helping musicians and looking after them and when you can help somebody, it feels just as rewarding as if I just played an incredible drum track on a record. It truly is fulfilling." Krampf is quick to point out the benefits that are offered to members of the AFM including free rehearsal space, health, car, home and life insurance discounts, as well as funeral benefits that start as soon as someone joins the union. He is also excited about a new feature on the Nashville Local 257 website, www.nashvillemusicians.org, that will give members increased opportunity to connect with potential employers and fellow musicians. In addition to his union job, Krampf still does session work and plays live. In fact, he can be heard on the upcoming March CD releases of Beth Nielsen Chapman and Shana Morrison (Van Morrison's daughter). "Creativity and passion don't know age. As long as my body is willing, I can rock with the best of them," he said. And rock, he does, no matter what else he's doing.