Member Profile
Primary tabs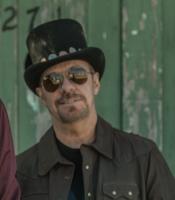 PRIMARY INSTRUMENT(S):
Bass Guitar

Electric Upright Bass

Guitar

Mandolin

ADDITIONAL INSTRUMENT(S):
TYPE OF WORK DESIRED:
TOURING

RECORDING

CLUB GIGS

PRIVATE PARTIES

TEACHING MUSIC LESSONS

Other

Showcases - Writing/Arrangements
CHART READING/WRITING SKILLS :
Number Charts:
WRITE

READ

Chord Chart:
WRITE

READ

HOME STUDIO :
Home Studio:
Yes

No

ENGINEER :
Engineer:
Yes

No

ADDITIONAL SKILLS :
Additional Skiills:
PRODUCER

ARRANGER

BAND LEADER

ROAD MANAGER

Other

Description:
Primarily, I play bass - electric, stand up (double bass), fretless, 5 string, with bows, picks or plucking. I understand theory and can read music and write charts. I can write music or collaborate on your songs. I can produce your music or assist with arrangements. Additionally, I play guitar - acoustic or electric, mandolin and back in the day I played trumpet. I work well with all drummers and other instrumentalists in the group. I have symphonic experience.
Resume / Bio:
Dow Tomlin is a seasoned Bassist out of Nashville who has toured and recorded with Wynonna Judd for more than 7 years (and counting), and who has toured/recorded with Brooks and Dunn, Lee Ann Womack, Jessica Andrews, Richard Marx, Nelson and on new projects from the members of Highway 101. A Musician's musician for more than 30 years who has the ability to adapt his playing to any genre, he has recorded with thousands of A list Artists and aspiring Songwriters and has backed many of the biggest names in the business as a house player at the Grand Ole Opry (for more than 5 years), at the CMAs (on multiple occasions) and at many of the top rated clubs in the Nashville area, around the U.S. and around the World.  Having performed multiple times on television, in films and having been asked to perform on the Kennedy Center Honors for the Johnny Cash induction, Dow is inspired by any opportunity he is given to play.  Dow's skills include, but are not limited to Electric Bass, Stand Up (Double) Bass, Fretless, 5 String, and he can read all music, along with adapting music into a chart format for recordings.  Dow welcomes collaborations of any kind in any musical genre and he is ready to add that special magic only he can bring to your song, to make it a one of a kind recording.