Member Profile
Primary tabs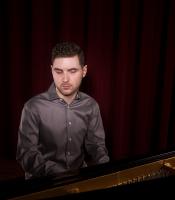 PRIMARY INSTRUMENT(S):
Piano

ADDITIONAL INSTRUMENT(S):
TYPE OF WORK DESIRED:
TOURING

RECORDING

CLUB GIGS

PRIVATE PARTIES

TEACHING MUSIC LESSONS

Other

CHART READING/WRITING SKILLS :
Number Charts:
WRITE

READ

Chord Chart:
WRITE

READ

HOME STUDIO :
Home Studio:
Yes

No

ENGINEER :
Engineer:
Yes

No

ADDITIONAL SKILLS :
Additional Skiills:
PRODUCER

ARRANGER

BAND LEADER

ROAD MANAGER

Other

Resume / Bio:
Elliott McClain is an independent pianist, artist, and musician who specializes in session recording and live performance. Blind since birth, Elliott started playing piano as soon as he discovered a keyboard, and has been known ever since for his exceptional aural and improvisational skills in diverse musical styles.
Elliott is a winner of the 2017 VSA International Young Soloists Competition, a Jean Kennedy Smith Arts and Disability Program, recognizing outstanding musicians with disabilities, ages 14–25, from around the world. Award week culminated with a performance on the Kennedy Center Millennium Stage in Washington DC.
As a freshman at Belmont University, Elliott was selected as a pianist for the premier jazz ensemble at the university. He was honored to have a feature role, sharing a duet with Ricky Skaggs, when Mr. Skaggs was awarded the prestigious Applause Award at the 2014 President's concert. He was one of several featured soloists with the Jazz Band during the nationally televised Christmas at Belmont performance in 2013, and performed in the Woods Piano Scholar Concert at Cheekwood Arts and Gardens.
Prior to college, Elliott performed with Lake Rise Place (LRP), a local pop trio, as keyboardist and lead vocalist in numerous local events and venues from 2008-2012. With LRP, he performed at prestigious venues including the Schermerhorn Symphony Center, Ryman Auditorium, Tennessee Performing Arts Center, and Ford Theatre at the Country Music Hall of Fame and Museum. Many of the events were sponsored by VSA Tennessee.
Elliott was awarded the Woods Piano Scholarship by Belmont University's School of Music, a four-year scholarship awarded annually to one freshman entering Belmont as a piano major. He was named VSA Tennessee Young Soloist in 2016. The Mayor's Advisory Committee for People with Disabilities named LRP Artist of the Year in 2011, and they were named Tennessee Goodwill Ambassadors by Governor Phil Bredesen in 2010.
Elliott has a Bachelor of Music degree in Commercial Music from Belmont University, and is currently pursuing a Master of Music.