Member Profile
Primary tabs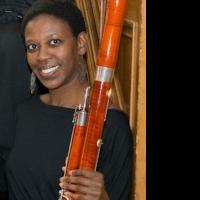 PRIMARY INSTRUMENT(S):
Bassoon

ADDITIONAL INSTRUMENT(S):
Contra Bassoon, Oboe, Clarinet
TYPE OF WORK DESIRED:
TOURING

RECORDING

CLUB GIGS

PRIVATE PARTIES

TEACHING MUSIC LESSONS

Other

CHART READING/WRITING SKILLS :
Number Charts:
WRITE

READ

Chord Chart:
WRITE

READ

HOME STUDIO :
Home Studio:
Yes

No

ENGINEER :
Engineer:
Yes

No

ADDITIONAL SKILLS :
Additional Skiills:
PRODUCER

ARRANGER

BAND LEADER

ROAD MANAGER

Other

Description:
I am a freelance musician, who performs with orchestras all around the region. I perform in concerts and solo recitals around the country. I also teach bassoon and oboe students of all levels privately.
Resume / Bio:
Maya Stone is a champion of music. She has commissioned and premiered several works by American composers. Recent projects include solo bassoon in Black Gospel Music. She is honored to be a member of the Rushes Ensemble, which premiered and recorded Michael Gordon's concert-length work for 7 bassoons. The group recently toured Europe showcasing the work, and continues to bring the piece to notable venues. Stone gives recitals and master classes around the U.S. each year. She has been a member of the Sphinx Orchestra since 2008, and won the second bassoon position with the Huntsville Symphony in 2007. She plays at the International Double Reed Society Conference, and performs regularly with orchestras around the South East. Stone loves to teach. She maintains an active teaching schedule whether in the academic or private setting. She has held visiting professorships at the University of Missouri in Columbia, and Bowling Green State University in Ohio. She has held the position of Assistant Professor of Bassoon at Middle Tennessee State University, and in 2004, she held a visiting professorship in double reeds at Austin Peay State University. Stone received her D.M.A. in bassoon performance from the University of Texas at Austin in 2010, an M.M. in bassoon performance and woodwind specialty from Michigan State University in 2003, and a B.M. in music education from SUNY Potsdam in 2001. Maya just recently moved back to the South East, and is thrilled to be living there again. She loves the green, rolling hills and mountains, and the crisp sun that is so prevalent in the region. For fun and recreation, Maya likes to dance salsa, run, and hang around nature and art. Although she does not have pets, she adores animals, and hopes to have a dog of her own someday.