Member Profile
Primary tabs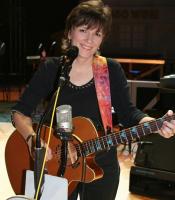 PRIMARY INSTRUMENT(S):
Banjo

Guitar

Vocals

ADDITIONAL INSTRUMENT(S):
TYPE OF WORK DESIRED:
TOURING

RECORDING

CLUB GIGS

PRIVATE PARTIES

TEACHING MUSIC LESSONS

Other

CHART READING/WRITING SKILLS :
Number Charts:
WRITE

READ

Chord Chart:
WRITE

READ

HOME STUDIO :
Home Studio:
Yes

No

ENGINEER :
Engineer:
Yes

No

ADDITIONAL SKILLS :
Additional Skiills:
PRODUCER

ARRANGER

BAND LEADER

ROAD MANAGER

Other

Resume / Bio:
You may remember her as the feisty, hat-wearing lead vocalist with the all-female country music group Wild Rose who recorded for Capital Records from 1989-1993, but those who have followed Pam Gadd's musical journey have fond memories of her banjo-playing bluegrass days as one of the first professionally strong female players of her generation. Indeed she was an inspiration for many of the women who would follow in her bluegrass footsteps. In 1979, Pam, who is a native of the small town of lndependence, Kentucky, joined her first professional touring band as banjoist, vocalist with Spring Valley, Ohio's Muddy River Band. She performed 4 years on the bluegrass festival circuit and recorded an album with them before leaving to join RCA Record's country artist, Johnny Russell as female vocalist. Crediting Russell as one of her great mentors in songwriting, she returned after the season ended to the Cincinnati area performing locally as a solo artist and honing her songwriting skills. Invited to join the all-female group, the New Coon Creek Girls from Berea, Ky. in 1983, Pam toured for four years and recorded several projects with them and winning a loyal bluegrass following. In 1986 she answered a call to come to Nashville and join ace multi-instrumentalist, Wanda Vick, to become the lead vocalist for Wild Rose and pursue a country music record deal. Believing there was an open market for such an act, the 5 ladies, all in their 20's, polished their high-energy act for 2 years, mixing country with acoustic bluegrass instrumentation, before being discovered by James Stroud one night at a club in Nashville. Award-winning producer, Stroud, then working with Jimmy Bowen, president of Universal Records (then moving to Capitol Records) was able to procure a major recording contact, and became their producer. They were able to do something that was nearly unheard of at the time- which was to provide their own instrumentation on their recordings-rather than hiring session players. Garnering Billboard  chart success with their very first two releases, Breaking New Ground and Go Down Swinging, the quintet went on to enjoy some rather major success, releasing 4 CMT videos, 3 CDs on Capitol Records, and touring extensively for 5 more years. They were featured on multiple television shows including Night of 100 Stars, Hee Haw, Music City Tonight, Nashville Now, Crook and Chase, The Statler Brothers Show, and The Joan Lunden Show.
Pam made the decision to leave Wild Rose after 7 devoted years to pursue what she hoped would be a record deal with RCA under the producing of then vice-president, Garth Fundis. Unfortunately do to a conflict of creative differences, Pam left Music Row politics behind with a disillusioned heart. Within a year she was invited to join Patty Loveless as backup vocalist touring with Vince Gill and Alan Jackson. In 1996, when the Loveless gig ended, a call came to rejoin The New Coon Creek Girls, now headed up by 5 time lBMA Female Vocalist of the Year, Dale Ann Bradley, filling in for pregnant banjoist, Ramona Church Taylor. An endearing friendship formed and Bradley came to sing on Pam's first solo project that followed. Picked up by Vanguard Records in 1997, The Long Road became Pam's long dreamed of expression of mostly original material featuring a mixture of bluegrass and country instrumentation. It was marketed in small market country, Americana, and bluegrass radio and spawned a video, I'd Rather Have Nobody (Than the Wrong Body). Pam hit the road with her band, The Long Road, and a second solo project followed in 2001 featuring more original music, this time geared toward bluegrass radio. In 2004 Pam was invited to join Grand Ole Opry member Porter Wagner as his duet singing partner and guitarist performing weekly at the Grand Ole Opry for 4 years until his death. A duet project titled Porter and Pam was released on Gusto Records, as well as several gospel compilations, of which Pam proudly feels are some of her best studio performances to date. In 2009, she released her 3rd solo project, Benefit of Doubt, independently through Home Sweet Highway Productions. Pam is an accomplished singer, songwriter (nominated for Song of the Year by SPBGMA, and having cuts by Terri Clark, Carl Jackson, Rarely Herd and Doyle Lawson) and an accomplished teacher and musician. She is regularly invited as a guest speaker lecturing at the Country Music Hall of Fame on the History of the Banjo. She makes her home just outside of Nashville in Joelton, TN, and performs weekly in Nashville with an all-star line up of musicians, as well as tour with reunion shows of The New Coon Creek Girls and Wild Rose. She is planning a new release in 2016.