Member Profile
Primary tabs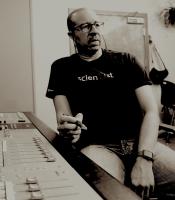 PRIMARY INSTRUMENT(S):
Bass Guitar

ADDITIONAL INSTRUMENT(S):
TYPE OF WORK DESIRED:
TOURING

RECORDING

CLUB GIGS

PRIVATE PARTIES

TEACHING MUSIC LESSONS

Other

Producing
CHART READING/WRITING SKILLS :
Number Charts:
WRITE

READ

Chord Chart:
WRITE

READ

HOME STUDIO :
Home Studio:
Yes

No

ENGINEER :
Engineer:
Yes

No

ADDITIONAL SKILLS :
Additional Skiills:
PRODUCER

ARRANGER

BAND LEADER

ROAD MANAGER

Other

Resume / Bio:
Objective                    Raise the standard of excellence in musical, technological, and
                                    Production arenas
Education                    Bachelor of Science Degree, 2012
                                    Major: Recording Industry Management (RIM)
                                    Minor: Business Administration & Electronics
                                    Middle Tennessee State University, Murfreesboro, TN
Employment                1983-1985
                                    Assistant Engineer/Audio Engineer
                                    LSI Recording Studio, Nashville, TN
                                    Duties included tape machine alignment, tape editing, engineering                                          sessions and mixing (song demos, jingles, and records)
Summary of                1985-1988
Qualifications             Self-Employment
                                    Free-lance Engineer/Musician/Songwriter
                                    Bass guitarist with The Imperials (Christian quartet)
                                    Jingle writer and musician (Mrs. Winner's, Opryland Theme Park,
                                    Pigeon Forge, Arizona Lottery, and more)
                                    Engineered numerous song demos for songwriters and publishing                                          companies in Nashville, Los Angeles, and New York writers: Pam                                         Rose, Mary Ann Kennedy, Dennis Morgan, and Alan Gorrie (AWB)
                                    1988-1989
                                    Artist/Producer/Songwriter/Musician
Caldwell Plus (Cedric & Victor Caldwell) signed to MCA Records Jazz label, Entitled" As We Bop"—record was in the top 10 on Adult Contemporary charts
                                    Produced and played on songs for artists such as The Spinners,                                                           Jane Powell, Donna McElroy, and David Austin (Wham)
                                    1990-1992
                                    Musician
                                    Bass guitarist with Beth Nielson Chapman (pop-folk vocalist and                                             songwriter), Mark Douthit (jazz saxophonist), Thomas Cain (blues                                            vocalist), Billy Dean (guitarist, country vocalist), Joe Sample (jazz
pianist),  Alternate keyboardist with BeBe and CeCe Winans on spot dates (R&B Gospel Artist)
1992
Musician, Engineer
Played Bass Guitar, Drums, and Engineered on Whitney Houston's Bodyguard Soundtrack, Jesus Loves Me (B side of I Will Always Love You)
                                    1993-2006
                                    Established "C" Vic Music Publishing Company
                                    Built Father's Image Audio Recording Studio, Brentwood, TN
                                    Produced CeCe Winans 1st Solo LP/CD "Alone In His  Presence"
                                    Produced 3 songs on Anointed's 1st Solo CD (Word Records)
                                    Produced 3 songs on Donnie McClurkin's Warner Bros. debut
Produced songs with 2 of American Idol's top 10 finalist, George
Huff, and Melinda Doolittle.
1997
                                    Producer/Songwriter/Musician/Engineer
Established Record Label, (ATF), Against The Flow Records
            Signed 4 diverse acts: Angie & Debbie, (R&B Gospel),
Ann McCrary, (Traditional Gospel),
Mom Winans, (Classical/Inspirational Gospel) &
Pop Winans, (Quartet Gospel)
 2006
                                     Became the Director of A&R for Dexterity Sounds which is
                                     Bishop T.D. Jakes Record Label based in Dallas TX.
Job Description:  Developing the Artist and managing the recording sessions, working with radio personalities, musicians, and public relations people.  Working with the Webmaster on maintaining the label website.
2009
                                    Bishop T.D. Jakes Movie "Not Easily Broken" in theater Jan. 9. 2009
                                    features "His Eye Is On The Sparrow" which was produced and arranged by
Cedric & Victor Caldwell.  The CD soundtrack features 4 songs written & produced by Cedric & Victor Caldwell that was released with the DVD movie early spring, (2009).
                                    2010-2011
                                    Bishop T.D. Jakes Movie "Jumping The Broom" in theaters May 2011
was released.  The CD soundtrack features 7 songs engineered and
mixed by Victor & Cedric Caldwell.  The soundtrack was mastered by Victor Caldwell.  Three tunes were written by Victor & Cedric Caldwell
and the 1st single made its way into the top 15 on the Urban AC charts
during the summer of 2011, sung by "Joe".  The tune is called "Closer"
2012- 2013
Produced, and Engineered Jazz Saxophonist Kirk Whalum's 2013 CD.
2012-2015
Audio Productions & Record Label instructor at Pearl Cohn Entertainment Magnet High School Nashville Tn.
2015-2016
Produced, Engineered & Mastered Kirk Whalum's latest CD "#LoveCovers".
2016-2017
Songwriter/Musician/Engineer/Producer of the debut CD by Ruby Camille "RC 1".
2020
Songwriter/Musician/Engineer/Vocalist/Producer of my on Solo CD
"Hide Me" Artist name: VC
 2017-2021Currently an adjunct at Volunteer State Community College teaching Audio Production classes from Introduction to Audio, to Advance Recording.
270 Audio Media, 271 Intro to Audio Recording, 272 Digital Audio Editing
Professional                AFM 257 Musician, NARAS
Membership
Volunteer                    Work with Church Media Ministry (15th Ave. Baptist Church, Nashville TN.)
Experience                  Talked to school students from grades 1-12 and college level on
                                    starting out on a musical instrument to making a career choice.
                                    I have been called upon to speak at juvenile homes about 
                                    my life experience and encourage those who were incarcerated.
Awards received         Dove for Producing "Mike-E & The G Rap Crew, (Mike "E")
Rap/Hip Hop Album of the Year 1991
                                    Visionary Award for Engineering-"Bodyguard Soundtrack" (Whitney Houston)
                                    Record of the Year 1994
Grammy for Engineering-"Tribute, The Songs of Andrae Crouch
Best Pop/Contemporary Gospel Album 1996
Dove for Producing "The Call" (Anointed)
Contemporary Gospel Album of the Year 1996
                                       Grammy for Producing-"Alone In His Presence" (CeCe Winans)
Best Contemporary Soul Gospel Album 1996
Grammy for Engineering-"Brothers" (Take 6)
Best Contemporary Soul Gospel Album 1997
Dove for Songwriting-"Anybody Wanna Pray" (CeCe Winans)
Best Contemporary Gospel recorded Song 2002
Dove for Producing-"CeCe Winans presents The Born Again Church Choir"
Best Traditional Gospel Album 2004
Dove for Songwriting-"Hallelujah Praise" (CeCe Winans)
Best Contemporary Gospel recorded Song 2004
Grammy for Producer/Engineer "Nothing Without You" (Smokie Norful)
Best Contemporary Gospel Album 2004
Grammy for Producer/Engineer "Thy Kingdom Come" (CeCe Winans)
Bes Pop/Contemporary Gospel Album 2008